BAEHC members attend The California Wellness Conference on Environmental Health in May, 2011
Dr.Henry Clark (Steering Committee member of BAEHC) and Rosina Roibal (Program Coordinator of BAEHC) attended The California Wellness Foundation (TCWF) conference on Environmental Health this past May of 2011, which took place in Los Angeles. Organizations who were invited were past or current grantees. BAEHC is a current grantee of TCWF.
Here is what we have to say about the conference, as well as other BAEHC members who attended the conference, representing their individual organizations:
Dr.Henry Clark said "The highlight for me was learning about renewable energy resources for communities. I think PG&E could start doing this in Bay View Hunters Point and in Richmond. PG&E has a big place in Richmond, and should make their own facilities energy efficient."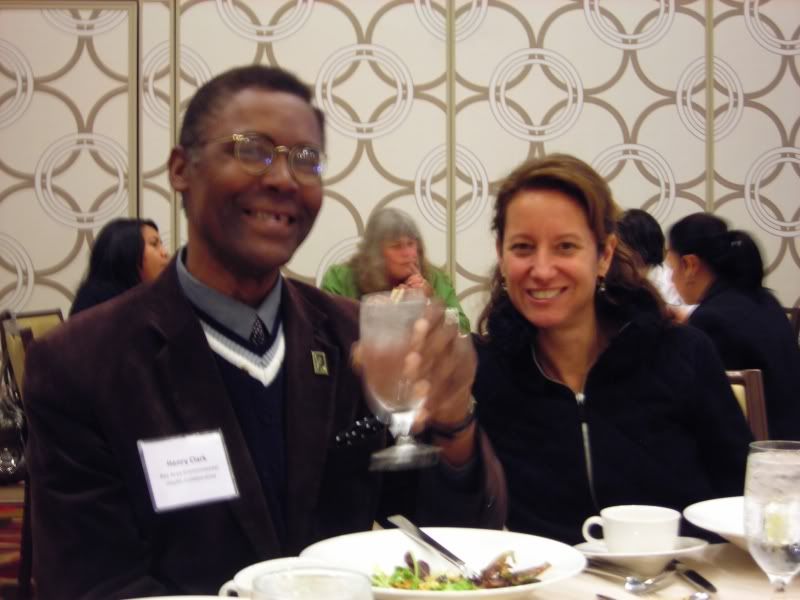 Rosina Roibal thinks that "For me, this was a great opportunity to build relationships with other people who are doing similar work in other cities and even our own region. I also got to hear some great speakers, where I learn so much about Health Impact Assessments, the California Global Warming Solutions Act (AB32), and Building Environmental Health Collaborations across Cultural Differences. It's important to overlap BAEHC's current work with other kinds of work that is happening, and find ways to work together in a larger movement."
When Antonio Diaz (PODER representative and BAEHC steering committee member) was asked what he'll bring back from the conference, he answered "I liked hearing that land use is a tool to address Cumulative Impacts, as well as Green zones and ground truthing. I listened to Bill Gallegos from Communities for a Better Environment talk about green jobs being social and political issues to be addressed. I enjoyed outlining the problems and strategizing about building accountability, as well as having opportunities at the conference for networking with people around the state. We were able to make these abstract/policy wonky climate change discussions more real, grassroots, and common. It was great to talk about all of this here at the conference, and now we need to go do the work!"
Bradley Angel (Greenaction rep and BAEHC steering committee member) said that he liked that "BAEHC members got to network with our allies and activists from across the state, and it is good to see so many people really understanding and talking about the issue of cumulative impacts of pollution harming low income and communities of color."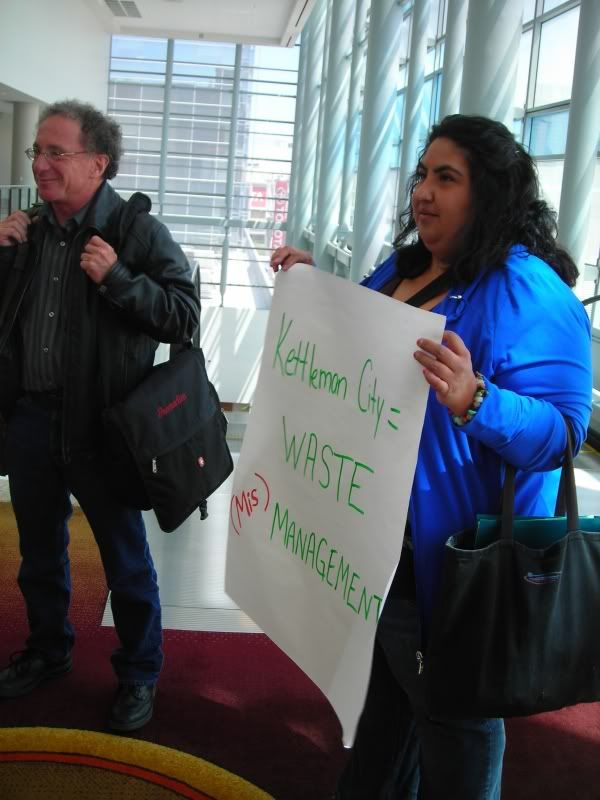 After the conference Greenaction members and other conference participants had the opportunity of going upstairs in the hotel with signs about Waste Management's dumping in Kettleman City. We gave them a stir.
If you are interested in hearing more about the conference, looking at notes, materials, or the agenda, contact Rosina Roibal rroibal@ggu.edu.